How to Love Your Life and Yourself
A five-week course for those who want to be more grateful, compassionate, loving, self confident, and make good shit happen in their lives.
Does the word "manifestation" make you want to barf but then you secretly know that the fuckery in your head is holding you back from achieving your dreams? Do you know that society's beauty standards are bullshit but still struggle to love yourself fully?
We all know we should be grateful and love ourselves but how do we actually do that, like really, really do that in our daily lives? In this course we will teach you the techniques and practices that have helped us and many others love ourselves, be more authentic, go after our dreams, take bigger risks, deal with adversity, and own our power.
ONLY $99!!
This course includes:
-5 video tutorials you can watch at your leisure
-Access to a private Facebook group to engage with Roxan and Noelle and your fellow classmates. We will be available to answer questions and guide you along the way.
-Live Group Coaching with Noelle and Roxan
Topics we will cover:
-An overview of our model and practices.
-A groundwork to begin actually being more gratitude, loving yourself and healing old wounds with practices you're already doing.
-Practical and magical tools for owning your power with "spelling".
-Daydreaming is powerful as fuck. Beauty is powerful as fuck.
-Habits to live your best life and be the who the fuck you want to be long term.
-Live group coaching session!!
Roxan McDonald, the author behind Knock Knock's inspirational decks Spiritual AF and Grateful AF, is a writer, teacher, workshop facilitator, coach, and public speaker. Roxan holds a BA in Interdisciplinary Education from California Institute of Integral Studies. (She still doesn't quite understand what "integral" means so please don't ask.) In 2019 she earned an MFA in Creative Writing from Pacific University. She currently leads writing and personal development retreats and co-teaches with poet Ellen Bass, author of The Courage to Heal, at 1440 Multiversity and Esalen Institute. Coming from a family in which women do not graduate high school, Roxan views her education as one of her highest achievements.
At age 15, Roxan got sober and currently celebrated 29 years of recovery. During this time, she spent fourteen years working on the front lines of addiction and trauma recovery. In 2013, Roxan created her @Spiritual_AF Instagram account because she was immensely grateful and increasingly spiritual, but wasn't seeing her reverent irreverence and potty mouth expressed in the self-help realm. She continues to connect with others who feel the same way—over 105,000 of them.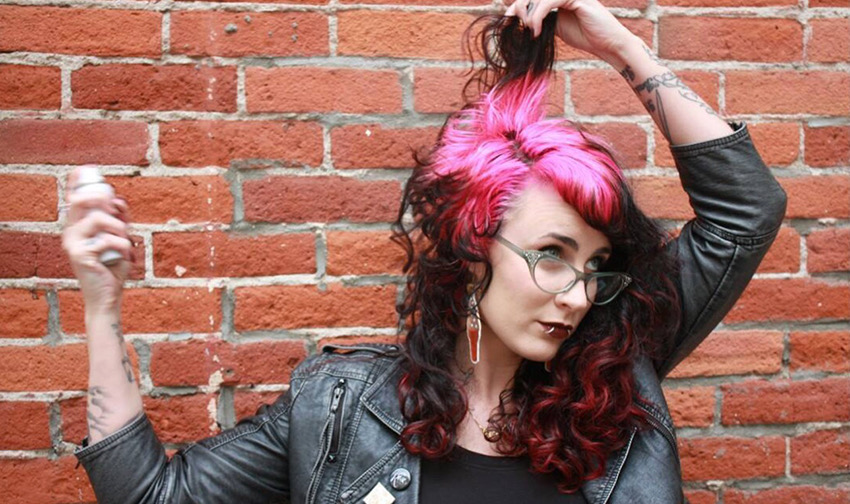 Beauty has always been my passion, obsession and saving grace. I am a second generation beautician and Italian witch. I have been in the beauty industry for over 20 years and a practicing witch for 4 though I've dabbled most of my life. I started the journey of combining my practice with my beauty rituals shortly after my mother passed away, finding comfort and solace in connecting my spirituality with my love of beauty that was passed down from her. These rituals are my meditation, manifestation tools and armor every single day.